CHEVRON DONATES OVER $2 MILLION FOR DIVERSITY AND INCLUSION NONPROFITS AT THE CHEVRON CHAMPIONSHIP 2022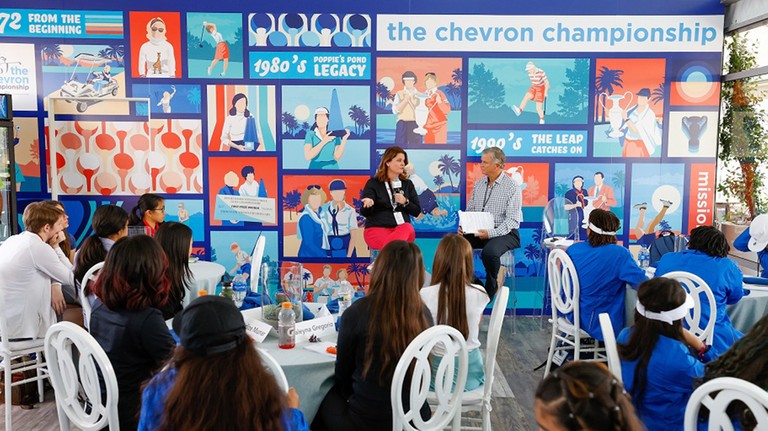 Chevron's debut as title sponsor of The Chevron Championship 2022, the first LPGA major of the year, was heralded a success with activities off course complementing and accentuating the stellar performance of the world's best golfers on course.
While the 2022 Champion Jennifer Kupcho dazzled over the Dinah Shore Tournament Course finishing at 14 under par and two shots clear of the field, Chevron delivered innovative philanthropic activations around Mission Hills to highlight their commitment both to women's golf, and diversity and inclusion.
In total, Chevron donated more than $2 million last week to their chosen charities focusing on supporting and championing women in sports, the workplace and society, a gesture which matches their notable prize fund increase of over 60 percent to $5 million at this year's Championship.
With both the community and fan experience at the heart of activations, Chevron hosted The Chevron Championship Leadership Forum for aspiring junior golfers and The Chevron Championship STEM Camp with over 100 students from Cathedral City Elementary all designed to highlight the importance of diversity and inclusion from early education to careers.
The showpiece activation, featured as part of NBC and Golf Channel coverage, was The Chevron Challenge on the 14th hole where Chevron donated $10,000 for every birdie and $1,000,000 for the first hole-in-one. There were 50 birdies on the 14th over the four tournament days totaling $500,000 which Chevron then doubled to $1 million. The first hole-in-one was delivered by 2018 Champion Pernilla Lindberg on Sunday at the 5th hole, taking Chevron's donation to nonprofits to $2 million.
The money raised will be distributed amongst NSBE SEEK powered by Techbridge Girls,* the LPGA Foundation and KPMG Foundation,* and Catalyst* to advance gender equality. (*See below for more details)
To celebrate the community of Rancho Mirage and to support local teachers, Chevron also provided a $50,000 donation from DonorsChoose to Brenda Santana, Cathedral City Elementary School principal, for classroom materials and activities.
"This week has been everything we have hoped for and more. Not only did we have an inspiring platform to showcase social investment partners aligned with our values, we were also able to highlight some amazing and strong sportswomen at the pinnacle of their careers," said Josetta Jones, chief diversity and inclusion officer for Chevron.
NSBE SEEK powered by Techbridge Girls
Techbridge Girls excites, educates, and equips girls from underserved communities to pursue STEM careers. Techbridge Girls has developed and implemented equitable STEM pedagogy that is gender and culturally responsive. Techbridge Girls brings a focus on STEM equity, social-emotional learning practices and cultural and gender responsive curriculum, by providing resources for the educators and the wider ecosystem that surrounds the girls, including their role models, families, and the community.
The National Society of Black Engineers (NSBE) created the Summer Engineering Experience for Kids (SEEK) to inspire Black students with the opportunities and wonder of the STEM field. SEEK is a free, three-week summer program that offers a fun and engaging educational experience for students in grades 3–5. SEEK aims to provide high-quality learning opportunities to underrepresented students who otherwise may not have access to a robust STEM education.
LPGA Foundation & KPMG Foundation Scholarships
A new Chevron scholarship through the LPGA Foundation will be launched this fall that focuses on providing financial support to girls from underrepresented communities looking to enter a science, technology, engineering, or math (STEM) career path.
Chevron supports the KPMG Future Leaders Program, a charitable initiative focused on developing future generations of women leaders. Annually, the program awards twenty-two top female high school seniors the opportunity to enhance their personal growth through college scholarships, a leadership development retreat, mentorship, and an introduction to golf.
Catalyst
Chevron invests in organizations like Catalyst, which for 60 years has accelerated the progress of women in business and is leading the Great Reimagining of the workplace – one that works for all women.
Chevron also partners with Catalyst to expand the Men Advocating Real Change (MARC) program. The MARC program is focused on engaging and empowering male executives and leaders to consistently model inclusive behaviors, influence more equitable talent management systems and processes, and build effective partnerships across gender.
LPGA Foundation
Chevron and the LPGA Foundation hosted an inaugural Leadership Forum. Using the forum as a platform, Chevron is looking to create a pipeline into the golf industry through education, introduction and opportunity for middle and high school age women who have discovered their passion for golf and have the desire to pursue a career in the game.
About Chevron and the LPGA Foundation
Chevron U.S.A. Inc. has joined the LPGA Foundation Giving Circle at the Founders level, with a commitment to invest $1.2 million over the next six years to support the LPGA Foundation's programs.
The LPGA Foundation recently launched its Giving Circle campaign to generate funds and support to increase opportunities for girls and women in golf. The Founder's Circle is the highest level of giving, with Chevron becoming the first corporate partner to make this substantial financial commitment and the third member of this level after the USGA and LPGA Tour players. Chevron's investment touches all parts of the LPGA Foundation, including LPGA*USGA Girls Golf, Scholarships, and the LPGA Leadership Academy.
About Chevron
Chevron is one of the world's leading integrated energy companies. We believe affordable, reliable and ever-cleaner energy is essential to achieving a more prosperous and sustainable world. Chevron produces crude oil and natural gas; manufactures transportation fuels, lubricants, petrochemicals and additives; and develops technologies that enhance our business and the industry. We are focused on lowering the carbon intensity in our operations and seeking to grow lower carbon businesses along with our traditional business lines. More information about Chevron is available at www.chevron.com.
About the LPGA
The LPGA is the world's leading professional golf organization for women, with a goal to change the face of golf by making the sport more accessible and inclusive.
Created in 1950 by 13 Founders, the Association celebrates a diverse and storied history. The LPGA Tour competes across the globe, reaching television audiences in more than 220 countries. The Epson Tour, the LPGA's official qualifying tour, consistently produces a pipeline of talent ready for the world stage. The LPGA also holds a joint-venture collaboration with the Ladies European Tour (LET), increasing playing opportunities for female golfers in Europe. Across the three Tours, the LPGA represents players in more than 60 countries.
Additionally, the LPGA Foundation has empowered and supported girls and women since 1991, most notably through LPGA*USGA Girls Golf, the only national program of its kind, which annually engages with nearly 100,000 girls. The LPGA Amateur Golf Association and LPGA Women's Network provide virtual and in-person connections to female golfers around the world, while LPGA Professionals are educators, business leaders and gamechangers dedicated to growing the game of golf for everyone.
Follow the LPGA on its U.S. television home, Golf Channel, online at www.LPGA.com and on its mobile apps. Join the social conversation on Facebook, Twitter, Instagram and YouTube.
About IMG
IMG is a global leader in sports, fashion, events and media. The company manages some of the world's greatest athletes and fashion icons; owns and operates hundreds of live events annually; and is a leading independent producer and distributor of sports and entertainment media. IMG also specializes in licensing, sports training and league development. IMG is a subsidiary of Endeavor, a global sports and entertainment company.