50TH ANNIVERSARY EDITION OF ANA INSPIRATION TO START WITH A CHARITY MATCH FOR THE ANNIKA FOUNDATION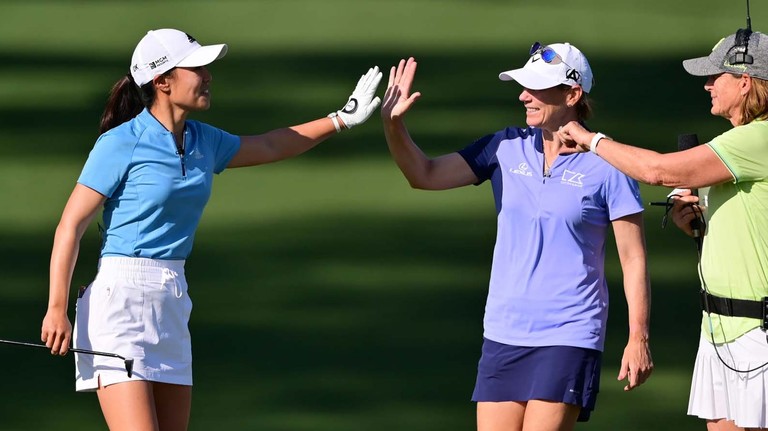 Sorenstam, Kang, Lindberg and Popov to play Skins Match on eve of first Major of 2021
Celebrations for the 50th Anniversary edition of the ANA Inspiration will get underway with a special Charity Match for the ANNIKA Foundation featuring Annika Sorenstam, Danielle Kang, Pernilla Lindberg and Sophia Popov in a special LIVE telecast on GOLF Channel on Wednesday, March 31, beginning at 7 p.m. ET/4 p.m. PT.
On the eve of the 50th edition of this historic event starting Thursday morning, Sorenstam, a 10-time Major champion and a three-time winner of the ANA Inspiration (2001, 2003, 2005), will partner with Kang, the 2017 KPMG Women's PGA champion, to take on 2018 ANA Inspiration winner Lindberg and 2020 AIG Women's Open champion Popov in a Skins Game to raise money for the ANNIKA Foundation, played over the back nine of the Dinah Shore Tournament course at Mission Hills.
Annika Sorenstam is widely recognized as the greatest woman golfer of all time and her remarkable feats did not stop when she retired from the Tour. Since starting her Foundation in 2007, Annika has been on the same prolific achievement path that she trod as a professional golfer, with the ANNIKA Foundation making a significant impact to junior golf and women's professional golf.
The ANNIKA Foundation has raised $7.5 million in support of junior golf since its inception and recently made a $50,000 commitment to support Symetra Tour players in 2020 to fight the COVID-19 pandemic. Over 60 alumnae have competed on the LPGA Tour and in 2020, 164 ANNIKA alumnae held Symetra Tour status.
Brian Carroll, SVP, Global Media Distribution at the LPGA commented, "We are happy to play a part in raising awareness for the ANNIKA Foundation and all of the work Annika and her Foundation have done for junior and women's golf. It is also a great opportunity to remind fans that the first Major of the year will be kicking off on Thursday on Golf Channel and gives us a nice chance to highlight some of the world's best players who can give fans a little extra insight as they look to take on the challenges of the Dinah Shore Tournament Course."
Annika added, "I am really grateful for the way the ANA Inspiration and The Golf Channel have created this opportunity for us to shine a spotlight on everything our team at the ANNIKA Foundation is achieving. To have three of the world's best players donate their time to play in this Match means a lot to us. I'm proud to have won this historic tournament and I can't think of a better way for us to kick-off the celebrations for their 50th anniversary."