CHEVRON USES MAJOR PLATFORM TO FOCUS ON CHARITY AND COMMUNITY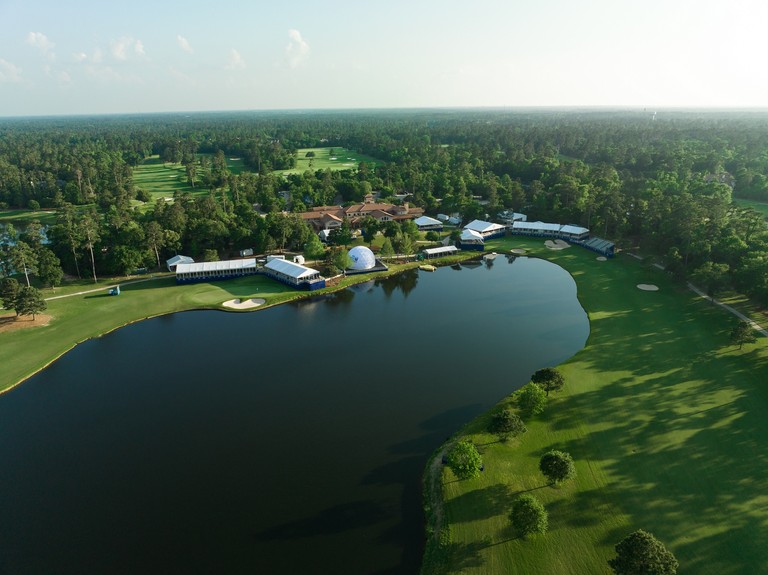 Chevron's second year as title sponsor of The Chevron Championship, taking place this week at The Club at Carlton Woods, sees them ramping up off course activities for the benefit of spectators, charities and the community.
A star-studded field is gathered here for the year's first Major, including the world's top 20 players and 25 major champions. Meanwhile beyond the golf course, Chevron has worked to provide an enhanced and enriched on-site experience featuring the fans and the wider community.A host of engaging activities are in place in the spectator village and around the 9th green including an Accenture VR Experience, Prairie View A&M Studio Experience, Chevron STEM Zone, Anatomy of Shoe Design (Sponsored By Wood), Dryvebox Golf Simulator, Chevron | BakerRipley Fab Lab and a Topgolf Top Tracer activity at the driving range. Around the site, The University of Texas MD Anderson Cancer Center, partners of The Chevron Championship volunteer program, are educating golfers and spectators on sun safety and the risks of skin cancer while distributing free sunscreen, UV-protectant sunglasses and SPF 30 lip balm.
Chevron is celebrating LPGA legends this week, kicking off with the Champions Dinner hosted by eight-time Michelin-star Chef Thomas Keller, which took place last night and was attended by 20 past champions. Looking to inspire the next generation, the Chevron Junior Legacy Pro-Am hosted by LPGA Legend Amy Alcott, a three-time champion, is taking place at the nearby Woodlands County Club on Wednesday. This special event will provide local junior female golfers and invited guests the unique experience of playing alongside some of the greatest players in LPGA history, delivering on Chevron's commitment to create access and opportunities for junior female golfers.
With the mission of 'changing the face of the game, on and off the course,' Thursday and Friday Chevron will host career panels in partnership with the LPGA Foundation. Female high school students aged 14-17 and collegiate athletes from Historically Black Colleges and Universities (HBCUs) will enjoy panels aimed to encourage girls and young women on a path toward becoming the next generation of leaders in business and golf.  Moderated by Golf Channel & NBC commentator Peter Jacobsen, the panels will feature conversations with successful women in the golf industry to foster connections, highlight opportunities, and inspire confidence among participants.
Speakers include Maulana Dotch, General Manager of Hermann Park Golf Course, Jackie Nickelberry, Influencer, Philanthropist and LPGA Foundation Board Member, Beth Ann Nichols, a Senior Writer at Golfweek and Jeehae Lee, CEO and Founder of Sportsbox AI.
Chevron is proud to work with the LPGA Foundation and Girls Golf to support grassroots golf programs and make a difference in the local community. As part of this collaboration, Chevron will stage a special Girls Golf Clinic on Saturday at the practice range, focused on giving girls of diverse backgrounds the chance to interface, engage and learn the 5 E's of Girls Golf (Enrich, Energize, Empower, Engage, Exercise).
A Girls Golf behind-the-scenes tour, sponsored by St Luke's Health will follow as the Girls Golf members will enjoy a unique behind-the-scenes tour of The Chevron Championship, including a visit to the TV Broadcast Compound, LPGA Rules Trailer, Player Dining and 1972 lounge in the clubhouse.
Chevron's charitable efforts will also be showcased on course with The Chevron Challenge on the 17th hole. Chevron will donate $10,000 for every birdie and $1,000,000 for the first hole-in-one to showcase partners making an impact through diversity and inclusion efforts from early education to careers.
"As we welcome The Chevron Championship to its new home in The Woodlands, we are committed to ensuring this first LPGA Major of the year not only sees the world's best golfers competing on course, but that we are delivering an inspiring platform off course which showcases our social investment partners and highlights our corporate values. We are very excited at what this week holds for everyone involved in The Chevron Championship and look forward to experiencing an inspiring week both on and off the course," said Josetta Jones, Chief Diversity and Inclusion Officer for Chevron.
Tickets for The Chevron Championship 2023 are available to purchase at The Chevron Championship.
Chevron U.S.A. Inc. became the new title sponsor of The Chevron Championship through a six-year relationship with the LPGA with their first edition as title sponsor taking place in 2022 won by Jennifer Kupcho.
ENDS
Media Contacts:
IMG: Michele Mair: michele.mair@img.com
LPGA: Christina Lance: christina.lance@lpga.com
Chevron: Deena McMullen: deena.mcmullen@chevron.com
Notes:
About Chevron
Chevron is one of the world's leading integrated energy companies. We believe affordable, reliable and ever-cleaner energy is essential to enabling human progress.
Chevron produces crude oil and natural gas; manufactures transportation fuels, lubricants, petrochemicals and additives; and develops technologies that enhance our business and the industry. We aim to grow our traditional oil and gas business, lower the carbon intensity of our operations and grow new lower carbon businesses in renewable fuels, hydrogen, carbon capture, offsets and other emerging technologies. More information about Chevron is available at www.chevron.com.
About The Club at Carlton Woods
Recognized as one of the finest clubs in the country by Platinum Clubs of America and Distinguished Clubs of America, The Club at Carlton Woods completely redefined the essence of lifestyle, where camaraderie flourishes and a culture committed to excellence proves that anything is possible! Member-owned since 2015, Carlton Woods continues to invest in its amenities and services, ensuring that its members and their guests have an exceptional experience every time they visit. From two nationally ranked golf courses to spa offerings, fine dining, and unparalleled family events, The Club at Carlton Woods continues to prove itself as the premier country club destination in the Houston area. More at carltonwoods.com
The Club at Carlton Woods has a world-class course and best-in-class off-course facilities This along with their visionary leadership team combine to make it the perfect new stage for the next chapter of the LPGA's first Major of the season.
About the LPGA 
The Ladies Professional Golf Association (LPGA) is the world's premier women's professional golf organization. Created in 1950 by 13 pioneering female Founders, the LPGA, whose members now represent over 60 countries, is the longest-standing professional women's sports organization. Through the LPGA Tour, the Epson Tour, a joint venture with the Ladies European Tour and the LPGA Professionals, the LPGA provides female professionals the opportunity to pursue their dreams in the game of golf at the highest level. In addition to its professional tours and teaching accreditation programs, the LPGA features a fully integrated Foundation, which offers best-in-class programming for female golfers through its junior golf programming and LPGA Amateurs chapters, tournaments and membership. LPGA aims to use its unique platform to inspire, transform and advance opportunities for girls and women, on and off the golf course.
Follow the LPGA online at www.LPGA.com and on its mobile apps. Join the social conversation on Facebook, Twitter, Instagram and YouTube.
About the LPGA Tour
The LPGA Tour is the world's leading competitive destination for the best female professional golfers in the world. The Tour hosts more than 30 annual events across 12 countries and regions for over 200 Active Players, awarding total prize funds exceeding $100 million and reaching television audiences in more than 220 countries. Follow the LPGA Tour on its U.S. television home, Golf Channel.
About IMG
IMG is a global leader in sports, fashion, events and media. The company manages some of the world's greatest athletes and fashion icons; owns and operates hundreds of live events annually; and is a leading independent producer and distributor of sports and entertainment media. IMG also specializes in licensing, sports training and league development. IMG is a subsidiary of Endeavor, a global sports and entertainment company.