FOURTEEN-YEAR-OLD LUCY LI WINS ANA JUNIOR INSPIRATION, EARNS FINAL SPOT IN MAJOR CHAMPIONSHIP FIELD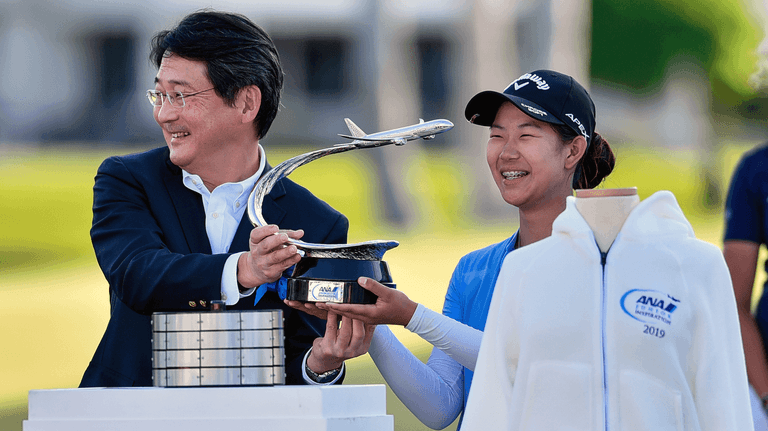 Fourteen-year-old Lucy Li won the AJGA's ANA Junior Inspiration on Sundayat Mission Hills Country Club to earn the final spot in the field of the LPGA's first major championship of the season.
Li, who made history in 2014 by becoming the youngest player to qualify for the U.S. Women's Open (age 11), is one of six amateurs set to play in the 46th edition of the ANA Inspiration. She shot 3-under-par 213 across 54 holes (36 on the Pete Dye Resort Course, 18 on the Dinah Shore Tournament Course) to win by four shots over three players.
"I'm just so excited right now and I can't wait to play next week," said Li. "The greens here are so pure and the rough is really thick. I had a lot of fun playing here. I want to thank all the LPGA legends for playing with us this week. I had so much fun with Pat Bradley. She made it so enjoyable and relaxing and I learned a lot from her."
"For a 14 year old, she is so impressive. She drives the ball well and she putted well too. She is very talented and she has a huge future," said Bradley, who was one of 20 LPGA legends who played alongside the juniors for the final round of the event, was duly impressed with Li. "She's very consistent and you need that to be successful. She got in a little trouble today, but it did not faze her and I was impressed."
Li is joined by fellow amateurs Katelyn Dambaugh (USA), Andrea Lee (USA), Hannah O'Sullivan (USA), Eun-Jeong Seong (South Korea) and Paphangkorn Tavatanakit (Thailand). Amateur Albane Valenzuela withdrew from the ANA Inspiration on Sunday.
"We are thrilled to welcome Lucy Li into the field of the ANA Inspiration," said Gabe Codding, Tournament Director. "Thanks to the vision and ambition of our title sponsor, ANA, and our partnership with the AJGA, we have watched the ANA Junior Inspiration evolve into an opportunity for the world's best amateurs to compete for a spot to play alongside the best in the game."
"Through our partnership with the AJGA, our ambition to foster the next generation of female golfers by making the ANA Junior Inspiration one of the top tournaments in all of girls' golf has become a reality," said Hideki Kunugi, Senior Vice President of the Americas, ANA. "It was a privilege to watch these elite junior golfers battle it out over 54 holes and we hope that they will walk away from this tournament inspired and with many great memories. Such an opportunity to play on the tournament course before it hosts a major with an LPGA legend simply doesn't exist anywhere else in the game. We look forward to seeing Lucy Li play in the ANA Inspiration this week and some of these juniors at Tokyo 2020."