RISING AMATEURS SECURE THEIR PLACES AT THE CHEVRON CHAMPIONSHIP 2024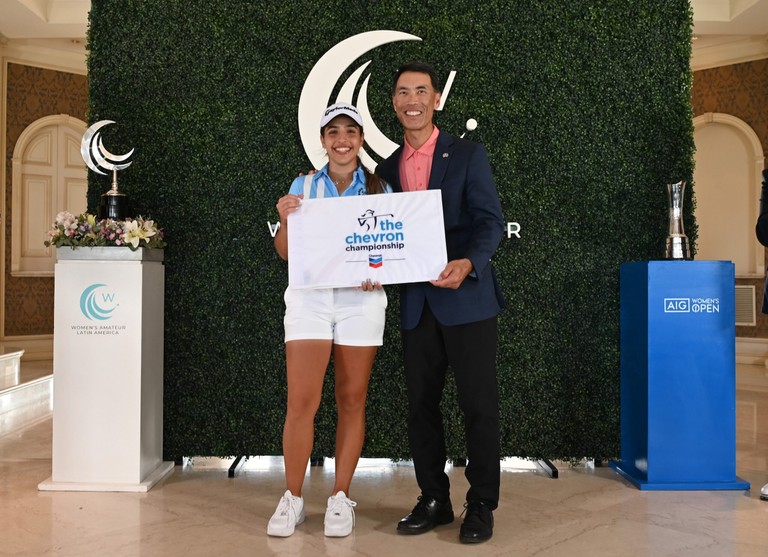 Argentina's Ela Anacona won the Women's Amateur Latin America championship presented by The R&A and ANNIKA Foundation this weekend, securing a coveted spot in the first LPGA major of the year, The Chevron Championship, taking place at The Club at Carlton Woods in The Woodlands, Texas, April 18-21, 2024.
The 23-year-old delivered an outstanding performance on her home turf at Pilar Golf Club in Argentina this past weekend, securing victory and becoming the second Argentinian to claim the title after Valentina Rossi's triumph last year. Holding a four-shot lead entering the final round, she sustained her lead with a final round three-under 69, ultimately winning the championship by an impressive 12 shots over Vanessa Gilly from Venezuela. Anacona, a fifth-year student at the University of Arkansas, will make her major debut at The Chevron Championship 2024.
Anacona commented, "I'm so excited but I think right now I want to soak everything in. I guess tomorrow I will realize I'm going to play in three majors. It's exciting to be able to prepare for them."
As part of its mission to provide greater access for amateurs to the professional game, The Chevron Championship offers six spots for qualifying amateurs from key international amateur tournaments. Among those already qualified are Germany's Chiara Horder, the winner of the 120th Women's Amateur Championship in June, and America's Megan Schofill, who secured victory at the U.S. Women's Amateur Championship in August.
Horder, a 20-year-old from Baldham, Germany, secured a 7-and 6-victory over Annabelle Pancake at Princes Golf Club in Sandwich, England, becoming the third German to lift the trophy in six years. She made her major debut at the Amundi Evian Championship followed by an appearance at the AIG Women's Open this summer. Recently, she transferred from Texas Tech University to Mississippi State University where she will study Marketing and be a member of the golf team.
Horder said, "I can't wait to compete in The Chevron Championship next year. The doors that have opened for me since winning the Women's Amateur Championship have been incredible. I'm also really looking forward to returning to Texas, where I studied for three years and having my friends come out to support."
Schofill, the current 12th ranked amateur in the world, beat Latanna Stone, 4 and 3, in the 36-hole final held at Bel-Air Country Club in California. The 22-year-old from Monticello, Fla., is a graduate student at Auburn University, where she achieved three individual victories as part of the university's golf team.
Schofill added, "The Chevron Championship will be my major debut and I couldn't be more excited. This is such a huge opportunity for me and I am really looking forward to competing with so many amazing players on such a huge stage. Playing in majors has always been my dream, and the fact it's actually happening next year is very surreal."
Al Williams, Vice President, Corporate Affairs at Chevron, commented, "We are thrilled to offer six aspiring golfers an exemption into The Chevron Championship next year. These highly sought-after amateur spots are an integral part of this Championship and aligns with one of our core goals as title sponsor, which is to create a pathway for amateurs from diverse backgrounds to enter the professional game."
The remaining amateur spots will be awarded to the winners of the 2024 Women's Amateur Asia-Pacific championship which takes place at Thailand's Siam Country Club in February, as well as the winners of the Augusta National Women's Amateur and the Chevron Silverado Showdown in April.
About Chevron
Chevron is one of the world's leading integrated energy companies. We believe affordable, reliable and ever-cleaner energy is essential to enabling human progress. Chevron produces crude oil and natural gas; manufactures transportation fuels, lubricants, petrochemicals and additives; and develops technologies that enhance our business and the industry. We aim to grow our traditional oil and gas business, lower the carbon intensity of our operations and grow new lower carbon businesses in renewable fuels, hydrogen, carbon capture, offsets and other emerging technologies. More information about Chevron is available at www.chevron.com.
About The Club at Carlton Woods
Recognized as one of the finest clubs in the country by Platinum Clubs of America and Distinguished Clubs of America, The Club at Carlton Woods completely redefined the essence of lifestyle, where camaraderie flourishes and a culture committed to excellence proves that anything is possible! Member-owned since 2015, Carlton Woods continues to invest in its amenities and services, ensuring that its members and their guests have an exceptional experience every time they visit. From two nationally ranked golf courses to spa offerings, fine dining, and unparalleled family events, The Club at Carlton Woods continues to prove itself as the premier country club destination in the Houston area. More at carltonwoods.com
The Club at Carlton Woods has a world-class course and best-in-class off-course facilities This along with their visionary leadership team combine to make it the perfect new stage for the next chapter of the LPGA's first Major of the season.
About the LPGA
The Ladies Professional Golf Association (LPGA) is the world's premier women's professional golf organization. Created in 1950 by 13 pioneering female Founders, the LPGA, whose members now represent over 60 countries, is the longest-standing professional women's sports organization. Through the LPGA Tour, the Epson Tour, a joint venture with the Ladies European Tour and the LPGA Professionals, the LPGA provides female professionals the opportunity to pursue their dreams in the game of golf at the highest level. In addition to its professional tours and teaching accreditation programs, the LPGA features a fully integrated Foundation, which offers best-in-class programming for female golfers through its junior golf programming and LPGA Amateurs chapters, tournaments and membership. LPGA aims to use its unique platform to inspire, transform and advance opportunities for girls and women, on and off the golf course.
Follow the LPGA online at www.LPGA.com and on its mobile apps. Join the social conversation on Facebook, X (formerly known as Twitter), Instagram and YouTube.
About the LPGA Tour
The LPGA Tour is the world's leading competitive destination for the best female professional golfers in the world. The Tour hosts more than 30 annual events across 12 countries and regions for over 200 Active Players, awarding total prize funds exceeding $100 million and reaching television audiences in more than 220 countries. Follow the LPGA Tour on its U.S. television home, Golf Channel.
About IMG
IMG is a global sports and culture company. It is a leader in rights management, multi-channel content production and distribution, consultancy and fan engagement; owns, produces and commercially represents hundreds of live events and experiences; and manages licensing programs for the world's best-known brands and trademarks. IMG is a subsidiary of Endeavor, a global sports and entertainment company.