Round Three Recap | The Chevron Championship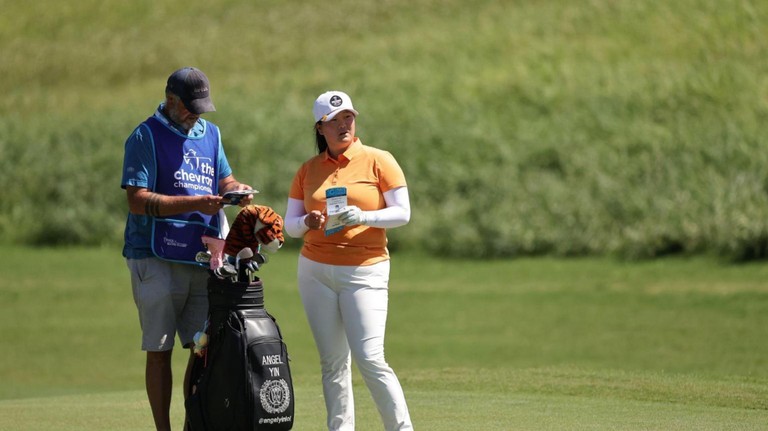 LEADERBOARD                   R1       R2       R3       ToPar
T1        Allisen Corpuz       72        67        67        -10
T1        Angel Yin         69        70        67        -10
T3        Amy Yang        73        69        65        -9
T3        Albane Valenzuela       72        67        68        -9
T3        Megan Khang       70        67        70        -9
Co-leader of The Chevron Championship Angel Yin on channelling her inner confidence…
"I imagine it [winning] every week. Every week I step on the tee box, I'm like, this is it. I played a practice round with Cristie Kerr during COVID, and we were in Reynolds. I remember this so clearly. I was playing a practice round with her, she was walking after she hit a tee shot off a practice round, and she was like, I'm four days away from people knowing I'm back. That's the confidence. Every day I tell myself that: Just channel your Cristie Kerr."
On how she feels being in contention for the first major of the year…
"I know where my game is at. I know how it's been performing for the last three days and the game plan for this golf course, and it's been working well. All I need to do is just get my energy back to semi-decent level, and then I think I'll be good to go. I think my focus today for the rest of the day is just to reenergize and be ready for tomorrow."
Allisen Corpuz on her thoughts ahead of Sunday, sharing the lead with Angel Yin…
"Obviously there's a lot of really good players out there, and just keep reminding myself that at my best I'm just as good as them. Yeah, that's what I've been telling myself."
On how she turned her game round after missing the cut in Hawaii last week…
"Yeah, just took a few days just to try to figure out what was going on. Just wasn't really hitting the ball very well last week, and I've just always felt a lot more comfortable on Bermuda. Grew up on Bermuda, so been putting a lot better this week, as well, and yeah, just trying to take better swings."
Albane Valenzuela on what kind of round she needs to shoot tomorrow to get the win…
"know, I'm really not focused on that. I think that's what I've been doing good this week is just focusing on my own game. The first day I was hitting my drives all over the course. I had an unplayable, I had to go in the water, and it just shows you in golf anything can happen. It's just about going to the next shot with a good attitude.
Misses are going to happen. Today I missed a shot on 8, kind of flew the green, but it's okay, then I learned from that and hit a great shot on 12. That's just major golf."
Megan Khang's thoughts on the final round…
"Honestly, the pressure is on for all of us. I didn't take a big look at the leaderboard, but it looks to be a pretty crowded leaderboard up there, and on this golf course, anything can happen, whether if the wind picks up or they move some tees forward or back. It's definitely going to be interesting, and that's what majors call for."
Hye-Jin Choi on how she has changed as a player since losing a 54-hole lead in 2017 at the U.S. Women's Open….
"Well, that was an unforgettable memory for me, and I learned a lot. Because of that memory I won many tournaments on the KLPGA, and I learned a lot from that, also."
On how her two Major top-5 finishes last year have helped her confidence….
" With the good memory with the major event, I get more confident when I play majors. I wasn't sure about my playing previous, like right before this tournament, and I've got the confidence right now."
Amy Yang on the frustrations of coming so close to winning Majors but not getting over the line…
"Yes, it is. You know, I'm out here to win a major, and getting close a lot of times and not being able to get one is just mentally tough."
World No.2 Nelly Korda on what it would mean to win having missed last year's Championship…
"I mean, a win, every single time I'm in contention, it means the world to me. I feel like with every win, I feel like everyone is overcoming something or battling something. It's not always smooth sailing I feel like in golf. I mean, for Rahm it is right now, which is nice. But I feel like especially at a major championship, you're trying to get into contention and you're trying to win, so I'm going to give it my all. But obviously it means a lot, not being able to be not playing last year and then a year from now being in contention."
Three-time major winner In Gee Chun made a hole-in-one on the 17th hole and the shot was worth $1,000,000 which will be donated by Chevron to featured partners in diversity, inclusion and education.
On what she felt making the hole-in-one…
"Right after I pick up the ball, then I saw the screen. I saw the number was big change, so I talked to my caddie Dean: Dean, I think I helped a lot of people because I just saw the number go really big. The number changed a lot. Then my manager Justine came to me and then she explained what's hole here, so then I got goosebumps."
To jump or not to jump…
ALLISEN CORPUZ: I don't think so.
HYE-JIN CHOI: I hope so.
ALBANE VALENZUELA: Oh, yeah, you've got to jump.
ANGEL YIN: Anything. I'll win, let me win, and then I'll do anything. Do I sound desperate with that? That's all I want. I've been telling everyone because I was like, if I tell the universe man, I'm going to manifest it true.
Tournament interviews, as well as the winner's interview, will be conducted via Zoom. The following link will work all week: https://us06web.zoom.us/j/88066564879
We will export press conference video interviews in hi-res MP4s and simple audio files. All files will be available at https://media.lpga.com in the appropriate tournament folder. Additionally, any United States-based media can download up to three minutes of broadcast highlights for use in daily broadcasts. To access this folder, go to https://media.lpga.com and click the log-in button at the top. The username is media@lpgamedia.com and the password is LPGAmedia123.
Transcripts are available here: The Chevron Championship (asaptext.com)
TOURNAMENT INFORMATION
Competition Format: 132 players; 72-hole stroke play, cut to top 65 and ties after 36 holes
Purse: $5.1 million
Whiteline Par and Yardage: 36-36–72, 6,824 yards
(par and yardage are subject to change through the start of the tournament)
Past Champions and Runners-Up:
2022 – Jennifer Kupcho, 274 (-14); Jessica Korda, 276 (-12)
2021 – Patty Tavatanakit, 270 (-18); Lydia Ko, 272 (-16)
2020 – Mirim Lee, 273 (-15); defeated Brooke Henderson and Nelly Korda in a playoff
2019 – Jin Young Ko, 278 (-10); Mi Hyang Lee, 281 (-7)
Tournament Scoring Records*:
18 holes – 62, Lydia Ko (fourth round, 2021); Lorena Ochoa (first round, 2006)
36 holes – 132, Pernilla Lindberg (2018); Sung Hyun Park (2018)
54 holes – 200, Jennifer Kupcho (2022)
72 Holes – 269, Dottie Pepper (1999)
*Records set at the Dinah Shore Course at Mission Hills Country Club