Round Two Recap | The Chevron Championship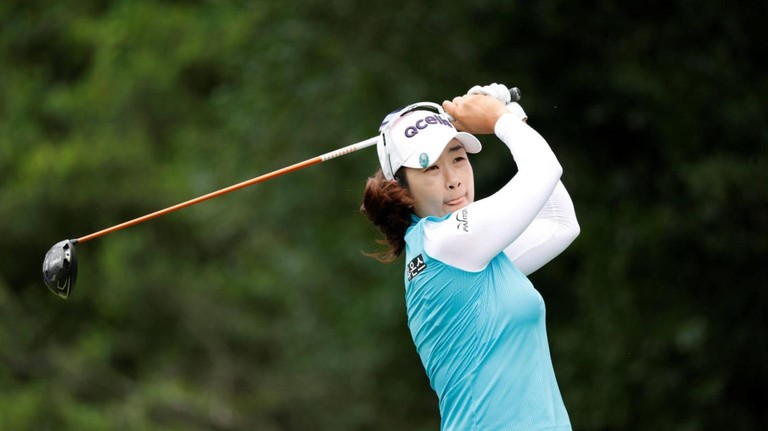 LEADERBOARD*                  R1       R2       TO PAR
1          A Lim Kim                  71        65        -8
T2        Megan Khang 70        67        -7
T2        Lilia Vu                       68        69        -7
T4        Patty Tavatanakit      71        67        -6
T4        Nelly Korda                68        70        -6
*With 31 players still to finish the second round, play will resume at 7:00am tomorrow. There are three players on tied 6th place; Brooke Henderson, Angel Yin and Peiyun Chieng who are yet to finish.  
The 3rd round will begin no earlier than 9:15am off #1 and #10 tee. We will split tees in threesomes with the lowest scores teeing off last off #1 and the highest scores teeing off last off #10.
About your Championship leader A Lim Kim
From:                                                  South Korea
Height:                                                5'9″
Aged:                                                  27 (October 4, 1995)
Turned Professional:                          2013 (aged 18)
Rookie year on LPGA:                       2021
Rookie year on KLPGA:                     2016
LPGA/Major titles:                               1 (2020 U.S. Women's Open)
Rolex Official World Ranking:            53
Career earnings:                                $1,205,464
Y2D earnings:                                    $46,951
Played four events so far in 2023, making the cut in all four appearances and finished T14 at the HSBC Women's World Championship in Singapore.
3-time winner on the KLPGA
2018 OK! Savings Bank Se-ri Invitational
2019 MY Munyoung Queens Park Championship
2022 Creas F&C KLPGA Championship
About Lilia Vu who lies in solo second place:
From:                                                  USA
Resides:                                             California
Height:                                                5'5″
Aged:                                                  25 (October 14, 1997)
Rookie year on LPGA:                       2019
LPGA Titles:                                        1 (2023 Honda LPGA Thailand)
Rolex Official World Ranking:            12
Career earnings:                                $1,271,647
Y2D earnings:                                    $348,878
Major winner and championship leader A Lim Kim on her driving distance helping her on this course…
"Yes, my driver first shot carry 255 or 260, but I can control every shape and every trajectory. Sometimes came storm or windy, the more control easy for me now."
On her confidence in the game…
"I believe in my ability and in my practice and my team. Yeah, they're really helpful for me."
"I worked with the best caddie, so he worked hard. Really good for me."
On being in Houston…
"Houston is a really great city and great feel. I love that, everything."
Lilia Vu on keeping a lid on her expectations…
"Just no expectations. I know it's a difficult course. Everybody is going to make mistakes. I'm just going to give myself as many opportunities as I can for birdie and then just try and make them. If not, just move on to the next one and try again."
Megan Khang on the Chevron Challenge on the 17th hole…
"On 17, Chevron is doing a birdies for donations kind of situation, and every time I go up there I'm like, okay. Yesterday there were six birdies, I was like jacked, it was about to be seven and was obviously optimistic and was able to make a birdie yesterday. Then same thing today; I'm like, okay, Jack, for the children, let's do it. So just stuff like that. Like it's nice that not only was the birdie helping me but it's helping others."
2021 Champion Patty Tavatanakit on the new version of herself…
"I'm sure all of us go through ups and downs in life, and you've got to just figure out what version that you want to come out of it, so you can't really be the same from two years, five years ago because you're such a different stage in your life. I think sticking to your core values, and with the experiences you've had, just kind of blending those in together and just becoming this new version."
On the move to Houston…
"I think it's a good thing that we're here this week. It doesn't feel like the comfort and the scarring tissue on that last course, so it just feels like it's a new major, it's a new course, so I treat it a little differently."
Hometown favorite Cheyenne Knight on relishing the support of friends and family… 
"Someone asked me if it is more pressure, and I don't think so. They're going to love and support me no matter what. I think it's just being comfortable just seeing familiar faces."
The leading amateur in the field Amari Avery on making the most of this opportunity…
"Honestly, I wanted to make the cut and I felt like I could just with where my game is at, but I've been wanting to celebrate with my team back home. We just won Pac-12s, so I'm like, another tournament, but this is the Chevron, this is a major championship. I think anyone would kill to be in this spot, so I just felt like I wanted to take this opportunity and do the best I could."